Today a "new segment" was release on Russian TV that Ukraine had attacked Donesk. When looking at the destruction of the explosion, you can see it centers on the burning truck and some of the other vehicles have bullet holes, if the SS-21 Scarab had hit in downtown Donesk then the devastation would have been a lot more as seen on this video where a big fireball can be seen kilometres away.
This is yest another fake incident created by the Russian GRU, they are known from making other fake incidents like Fake IDEs and a video where they used audio from a Finnish Army video (Russia, time to pay royalty!).

Донецк. Глядя на разрушения от взрыва, вы можете видеть, что он сосредоточен на горящем грузовике, а некоторые другие автомобили имеют пулевые отверстия, если бы SS-21 Scarab попал в центр Донецка, разрушения были бы намного больше, как видно на этом видео, где за километры виден большой огненный шар.
Это еще один фальшивый инцидент, созданный российским ГРУ, они известны по созданию других фальшивых инцидентов, таких как Fake IDE и видео, в котором они использовали звук из видео финской армии (Россия, время платить роялти!).
Here is picture of the missile itself,. there is no sign of it has crashed and it's unusually unharmed for a shot down missile. It's like someone has carefully placed it there.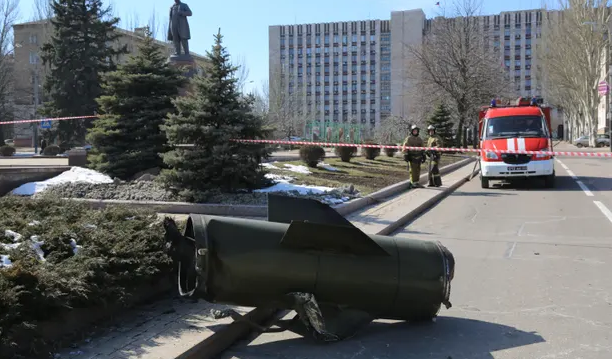 Вот фото самой ракеты. нет никаких признаков того, что он разбился, и он необычно невредим для сбитой ракеты. Как будто кто-то осторожно поместил его туда.